Special machine construction for series production with application-specific software solution
Professional automation: Pick & Place or
continuous component conveying
Machine-integrated measurement technology as condition monitoring or for 100% component qualification
Machines for series production: Our Statistics
Realized machine throughput
Component inspection rate in the machine
P1000 automatic – SPECIAL MACHINERY FOR THE

AUTOMATED MICRO-MACHINING
The P1000 automatic is a machine series for the automated laser microprocessing in series applications.
By combination the modular laser processing cells the RDX series, component-adapted feed systems and more powerful measuring technology Special machines are created for the laser-based processing of components and flexible substrates in large numbers including a 100% control the processing results for seamless follow-up.
The machine configuration is designed and configured customer-specifically based on the requirements for cycle time, component quality and quality. The start of series production takes place together with the customer, supported by our on-site service.
Properties of the special machines
Processes: Laser drilling, laser structuring, laser fine cutting, surface functionalization, …
Component formats:

Flat substrates
Small components / sleeves
Flexible substrates

Automation:

Feed via articulated arm robot
Vibrating conveyor with rotary indexing table
Roll-to-roll feed
Custom solutions

Throughput:

Depending on the automation and process, up to 15,000 parts per hour
Applications
Laser micro drilling of components, flat substrates
Scribing and marking of flat substrates
Laser processing of flexible substrates for electronics
Laser-induced-forward transfer (LIFT) on flat substrates
Example of a P1000-R2R automation solution for roll-to-roll processing
Automated

Workpiece feed
In contrast to single piece production, in which only the laser process control is automated, in series production the component is automatically positioned and an entire process sequence is triggered with one or more tools and measuring devices.
In the Batch production individual parts are positioned in series clamping devices or component nests. Depending on the machine format and sensor equipment, 2D components can be arranged on a processing area of up to approx. 500 x 500 mm².
The machine control then uses the integrated vision system with registration mark recognition to precisely align the component, even if semi-finished products and components have been positioned with angle errors due to manual loading and have lateral position deviations.
With the help of articulated robots will be realized. The non-productive time for component positioning drops to the single-digit second range. In this way, for example, the production range for an average throughput of several 100 to 10,000 pieces per week can be covered.
In the area of thin-film processing of foils or the structuring of printed circuit boards, significantly higher outputs can be achieved with sequential feed systems than in batch production. For these applications you can connect to the machine Roll-to-roll conveyor systems be adapted.
The elastic behavior of the material when tensile forces are applied inevitably lead to distortions and structural deviations in the range of tens to hundreds of micrometers. In order to still be able to implement reproducible processes and the distortion-free processing of larger component surfaces, Pulsar Photonics uses its own systems for active beam position control and detects two-dimensional distortions and feed errors through registration mark recognition.
Pulsar Photonics has one Network of high-performance automation partners that can offer a customer-specific automation solution depending on the component geometry and degree of automation.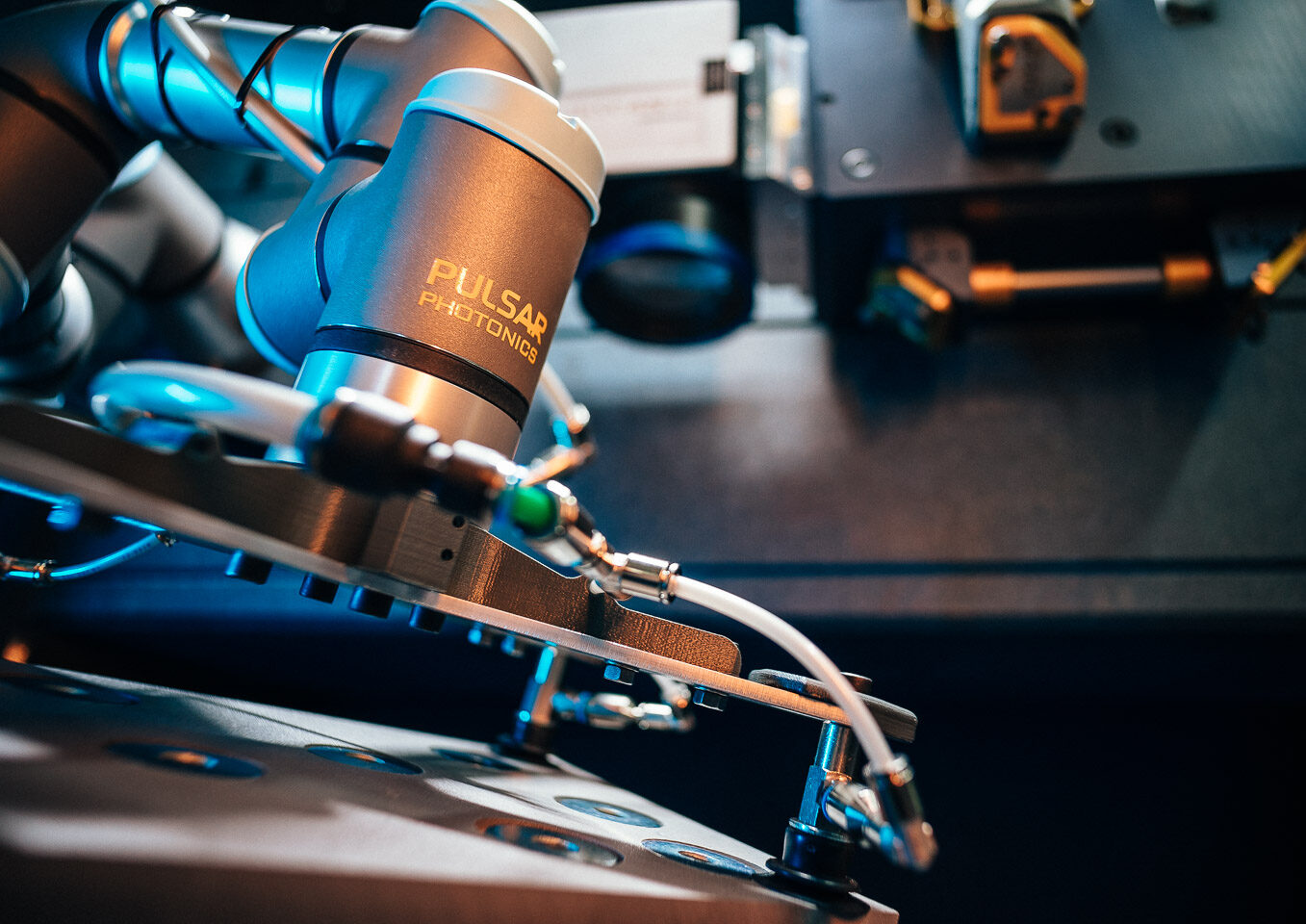 Machine integrated

Measuring technology
In addition to short production times, achieving the same process results over a long period is an essential key for series production with high system availability. Especially in series production and in processes with long process times is one constant monitoring of processing parameters such as the beam position and power of the laser beam but also machine condition parameters are advantageous in order to enable constant processing quality.
Here, for example, the condition measurement of laser power and beam profile by optical sensors provides the necessary data required for active control, error diagnosis, for achieving higher process capability indices, condition-based maintenance or documentation.
The software PhotonicElements enables the processing and visualization of the data. In addition to the measurement data from the sensors installed on the hardware side, these are available in combination with the machine and process data recorded by the machine control system.
Software modules for Production data acquisition and order tracking enable targeted data support in production.
Despite the good reproducibility that can be achieved in this way, an additional, downstream quality control of the manufactured Components or surfaces required. For this purpose, high-precision topography sensors are used to detect geometric features of the machined components.
Machine data &

Configurator
Configurator
"*" indicates required fields