FBS
Optical modules for laser material processing
Process optimization through beam shaping
Kundenspezifische Optiksysteme
Development of customer-specific
optical systems
From optics design to the process validated optics module
SLS
Beam diagnostics & beam position stabilization
Full process control through beam monitoring
Optical modules

for laser material processing
Pulsar Photonics develops and builds complex optical systems for laser material processing. Based on our modular system for beam guidance, beam shaping, optics, actuators and software, machine-integrated optics modules for laser material processing are created. The modules are optimized in their design and functionality to meet the requirements of the respective laser process.
The economy of the laser process plays a decisive role in many applications. We offer with our MultiBeamScanner (MBS) and the FlexibleBeamShaper (FBS) directly to two systems in which processes can be massively parallelized by means of diffractive beam shaping. This enables processes to be effectively scaled and existing resources to be used optimally. With the Microscan we address the trend towards ever higher structural resolution. The Beam position stabilization is the basis for high stability and reliability in demanding laser processes.
For Customer specific requirements Pulsar Photonics develops tailor-made optical modules for novel and complex tasks. With a high level of process expertise and years of experience, complex optical systems can be tailored and optimized for every laser application. In our extensively equipped test laboratories, the optics are qualified directly in the laser process and machine environment.
Make use of our extensive expertise in the field of system technology for laser material processing!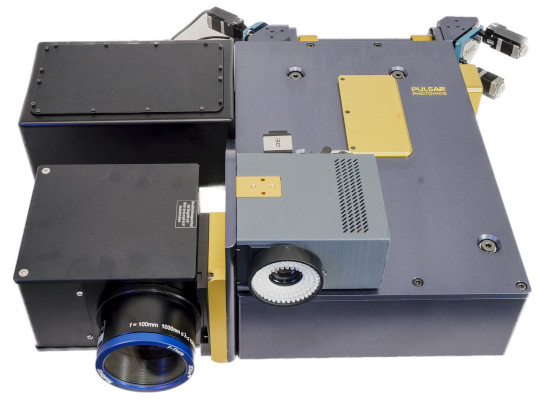 Multibeam scanner (MBS)
Processing head for parallel processing using diffractive beam splitting for highly productive applications
Flexible beam shaper (FBS)
Processing head for flexible beam shaping and beam splitting based on spatial light modulators.
Custom optical systems
We develop customer-specific and application-optimized optical systems for laser material processing for you
Your personal Contact
Dipl.-Phys. Patrick Gretzki
Sales of optical systems