FBS
Optikmodule für die Lasermaterialbearbeitung
Prozessoptimierung durch Strahlformung
FBS
Optikmodule für die Lasermaterialbearbeitung
Prozessoptimierung durch Strahlformung
Kundenspezifische Optiksysteme
Entwicklung kundenspezifischer
Optiksysteme
Vom Optikdesign bis zum prozessvalidierten Optikmodul
SLS
Strahldiagnose & Strahllagestabilisierung
Volle Prozesskontrolle durch Strahlüberwachung
Optical modules

for laser material processing
Pulsar Photonics develops and builds complex optical systems for laser material processing. Based on our modular system for beam guidance, beam shaping, optics, actuators and software, machine-integrated optics modules for laser material processing are created. The modules are optimized in their design and functionality to meet the requirements of the respective laser process.
Bei vielen Anwendungen spielt die Wirtschaftlichkeit des Laserprozesses eine ausschlaggebende Rolle. Wir bieten mit unserem MultiBeamScanner (MBS) und dem FlexibleBeamShaper (FBS) direkt zwei Systeme an, bei denen mittels diffraktiver Strahlformung Prozesse massiv parallelisiert werden können. Dadurch können Prozesse wirksam skaliert und vorhandene Ressourcen optimal genutzt werden. Mit dem Microscan adressieren wir den Trend zu immer höherer Strukturauflösung. Die Strahllagestabilisierung ist Grundlage für hohe Stabilität und Zuverlässigkeit bei anspruchsvollen Laserprozessen.
Für kundenspezifische Anforderungen entwickelt Pulsar Photonics maßgeschneiderte Optikmodule für neuartige und komplexe Aufgabenstellungen. Durch hohe Prozessexpertise und jahrelange Erfahrung können komplexe optische System für jede Laseranwendung maßgeschneidert und optimiert werden werden. In unseren umfangreich ausgestatteten Testlaboren werden die Optiken direkt im Laserprozess und Maschinenumfeld qualifiziert.
Make use of our extensive expertise in the field of system technology for laser material processing!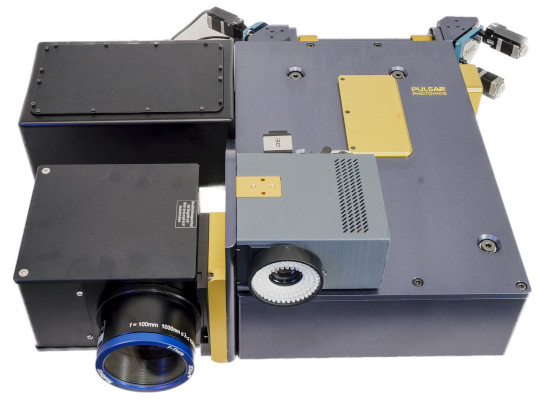 Multibeam scanner (MBS)
Processing head for parallel processing using diffractive beam splitting for highly productive applications
Flexible beam shaper (FBS)
Processing head for flexible beam shaping and beam splitting based on spatial light modulators.
Your Personal Contact person
Dr. Marius Gipperich
Technical Sales