---
Herzogenrath, 07/12/2021: Pulsar Photonics, laser technology expert from Herzogenrath, has developed the P1000 automatic, a fully automatic production solution for laser processing in high-volume production. Designed for 24/7 operation, the machine produces up to 300,000 parts per day. A fully integrated measuring technology qualifies the parts 100% and rejects the NOK parts automatically.
The laser machine is designed for processing small bulk material and is able to process up to 300,000 parts per day by means of drilling, structuring and cutting processes in 24/7 operation. The P1000 automatic from Pulsar Photonics managed to achieve a defective part rate of less than 0.2‰ in real operation in a reference project for laser drilling of stamped and bent parts.
100% inline-inspection
Not only does the P1000 stand out with its high performance measurement technology, but also with its short cycle time in the range of 250 ms and its highly reproducible laser processing. The laser machine is equipped with a powerful image processing system that controls several geometric parameters in the machine with a 100 % inspection at the same cycle rate. A fully automatic diverter discharges the unmachined parts into the machine during start-up and the NOK parts are ejected into a reject bin during operation.
Dr. Frank Zibner, production manager for mechanical engineering at Pulsar Photonics GmbH: "We are solving numerous challenges of high-volume laser production with the development of the P1000 automatic. Our machine software lets customers use existing software interfaces and connect the laser machine to their own production control system. These individual connection options, the fully automatic operation and the low maintenance requirement, as a result of having just a few wearing parts, are what make the P1000 automatic so appealing, especially for production in high-wage countries."
Pulsar Photonics
Pulsar Photonics GmbH is an innovative high-tech company in the field of laser technology. Its range of services includes the development, production and distribution of laser machines for material processing with short and ultra-short pulse lasers. A second core competence of the company is the integration of tooling and measuring systems for material processing, adapted to the specific requirements of the application. Besides its expertise in system development, Pulsar Photonics is also a competent partner for single-part and series production with (ultra-)short pulse lasers. Its core processes focus on structuring, drilling and precision cutting.
Founded in 2013, Pulsar Photonics GmbH is one of the fastest growing companies in Europe, according to the Financial Times and Statista. Pulsar Photonics has been part of the Schunk Group since 2021.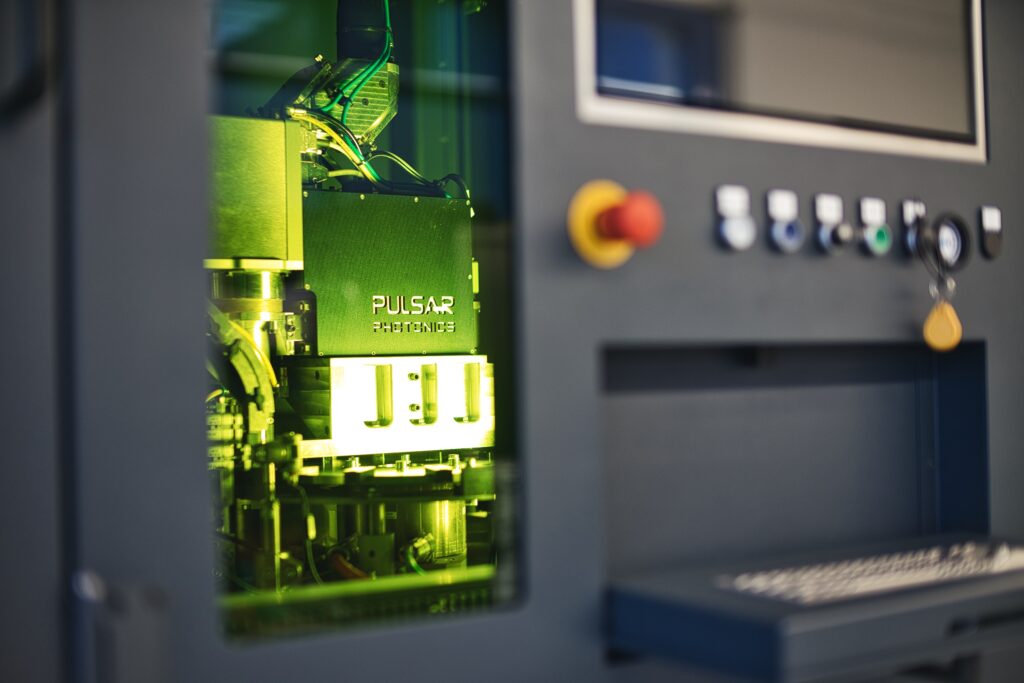 P1000 automatic
* Laser machine for 24/7 operation produces up to 300,000 parts per day

* Integrated measuring technology qualifies parts 100 % and automatically rejects NOK parts
---
Contact
Pulsar Photonics GmbH
Contact: Dr. Stephan Eifel
info@pulsar-photonics.de
www.pulsar-photonics.de